Extra Bling!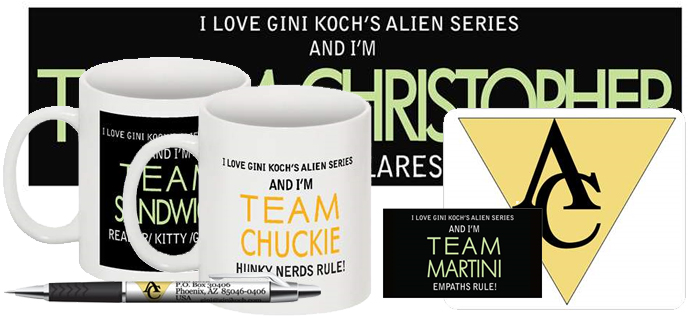 Dress up your computer, your office, your kitchen, your car, or anywhere else, for that matter,
with all sorts of Alien Collective stuff. (These items also double as a way for
undercover A-Cs to spot the people nearby they can trust in times of need.)

First:
Pick Your Team:

Team Martini
Empaths Rule!
Team Christopher
Patented Glares Rule!
Team Sandwich
Reader/Kitty/Gower!


Team Gator
Prehistoric Attack Dogs Rule!


Team Chuckie
Hunky Nerds Rule!


Team Dazzler
Brainy Hot Chicks Rule!


Team Dazzler
Got Stephen Hawking's Number?


Team Kitty
Accidental Badasses Rule!


Team Poof
Adorably Cute, Even When Angry!


Team Poof
Adorable Bundles of Killer Cuteness Rule!


Team ACE
Benevolent
Super-Consciousnesses Rule!





Team Airborne
Nothing's Fly Like a Flyboy's Fly!


Team Sapiosexual
We Like Big Brains and We Cannot Lie!


The Sapiosexual Collective
Keepin' it Smart!





I'm An Official Member of the Alien Collective
I Love Gini Koch's Alien Series


I ❤ Werewolves!


Howl With the Night Beat!



Next:
Pick Your Bling:
Bumper Stickers



Stick on your bumper, your wall, your notebook, your walls! Where you stick them is
limited only to your imagination and, in some cases, pain threshold.

$7.50, plus S/H


Mousepads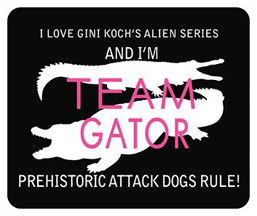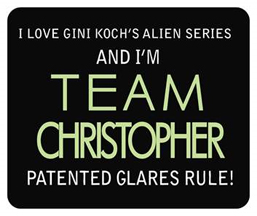 Roll that mouse in style!

1/8" thickness: $15.00, plus S/H
1/4" thickness: $18.00, plus S/H


Coffee Mugs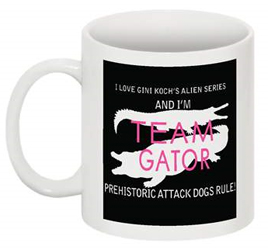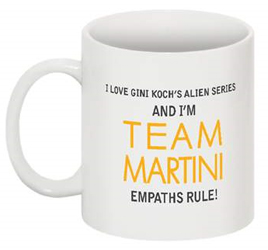 Show your love for all things Alien at work, at home, at play...well, maybe not at play.
They're sturdy and all that, but they ARE breakable.
Perfect for holding the beverages of your choice.

$15.00, plus S/H


Magnets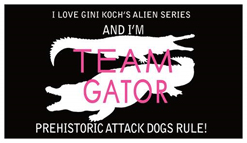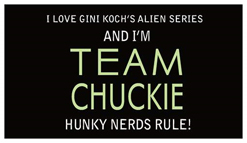 Some magnets are free over on Free Stuff. These aren't.
BUT, if you buy anything else from the Depot, one of these magnets, of your choice, will be FREE.
Cool how that works, innit?

$2.00, plus S/H


Pens





Write in style and show your coolness factor.

$5.00, plus S/H


Send your order to gini@ginikoch.com. Please be sure to list sizes and quantities clearly.
All orders paid through PayPal. International orders okay.
All items will be charged 9.3% AZ sales tax. Shipping & Handling varies;
you'll be advised of S/H charges before your order is final.

Orders will not process until payment is received. U.S. orders can take 4-6 weeks.
International orders can take up to 8 weeks. Expedited shipping options are available
(but they cost a ton & we don't encourage the impatience -- but we'll do it if you want it).
| Clothing |
| Accessories |
| Poofs©! |
back to the Entrance of the Alien Collective Depot
Want to know what's happening with me first? Send your email address to gini@ginikoch.com with "Hook Me Up!" in the subject line, and I'll add you onto my email blast. You'll be the first to know about news, excerpts, book releases, contests and more.
I'm also on Pinterest!
http://pinterest.com/ginikoch/
|Blah, Blah, Blah... |
| Bookstore |
| Alien Collective Depot |
| Licensed Products |
| Accolades |
| Playlist |
| Newsy Stuff |
| Datebook |
| Deathless Prose |
| Expanded Universes |
| Spotlight |
| Extra Me! |
| Free Stuff |
| Sightings in the Wild |
| Cool Links |
| The Centaurion Files |
| The Necropolis Files |