Alien Education 101.
Knowledge is half the battle. Surviving it...
that is a completely different story.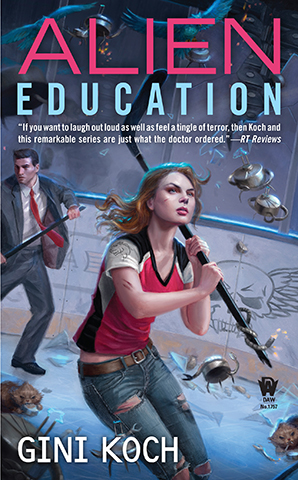 As if learning as much as possible about every alien race in the galaxy, fending off the advances both business and personal from a variety of Hollywood types, dealing with the assimilation of various alien races, and navigating the Embassy Daycare kids' first day of "real" school wasn't bad enough, President and First Lady Jeff and Kitty Katt-Martini must now deal with new robotic attacks that endanger every alien child on Earth, the resurgence of a bigger, nastier Club 51, and a variety of murders, all while facing the most truly terrifying organization they've ever encountered -- the school's Parent-Teacher Association.

Want to know what's happening with me first? Send your email address to gini@ginikoch.com with "Hook Me Up!" in the subject line, and I'll add you onto my email blast. You'll be the first to know about news, excerpts, book releases, contests and more.
Iím also on Pinterest!
http://pinterest.com/ginikoch/
|Blah, Blah, Blah... |
| Bookstore |
| Alien Collective Depot |
| Licensed Products |
| Accolades |
| Playlist |
| Newsy Stuff |
| Datebook |
| Deathless Prose |
| Expanded Universes |
| Spotlight |
| Extra Me! |
| Free Stuff |
| Sightings in the Wild |
| Cool Links |
| The Centaurion Files |
| The Necropolis Files |