Accessories!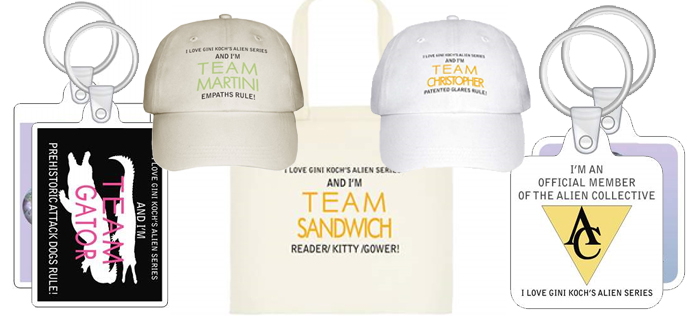 The well-dressed person always adds those extra touches. And we have the extra touches
every Member of the Alien Collective in Very Good Standing needs in order to say,
"I'm here, random A-C Field Agents and Dazzlers looking for a cool, fun, smart human!"

First:
Pick Your Team:

Team Martini
Empaths Rule!
Team Christopher
Patented Glares Rule!
Team Sandwich
Reader/Kitty/Gower!


Team Gator
Prehistoric Attack Dogs Rule!


Team Chuckie
Hunky Nerds Rule!


Team Dazzler
Brainy Hot Chicks Rule!


Team Dazzler
Got Stephen Hawking's Number?


Team Kitty
Accidental Badasses Rule!


Team Poof
Adorably Cute, Even When Angry!


Team Poof
Adorable Bundles of Killer Cuteness Rule!


Team ACE
Benevolent
Super-Consciousnesses Rule!





Team Airborne
Nothing's Fly Like a Flyboy's Fly!


Team Sapiosexual
We Like Big Brains and We Cannot Lie!


The Sapiosexual Collective
Keepin' it Smart!





I'm An Official Member of the Alien Collective
I Love Gini Koch's Alien Series


I ❤ Werewolves!


Howl With the Night Beat!



Next:
Pick Your Accessory:
Baseball Caps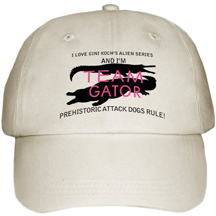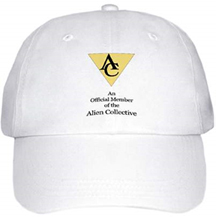 Stay safe from the sun, hide bed hair, look cool, all at the same time!
White or Khaki designed to keep you cool while looking cool.
We love it when a plan comes together.

$20.00, plus S/H


Tote Bags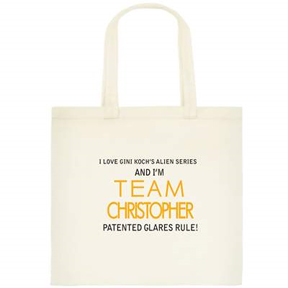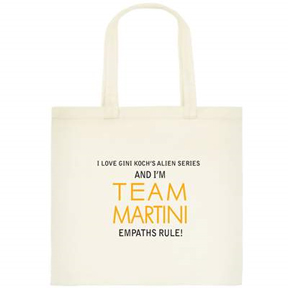 Carry around your copies of "Touched by an Alien", "Alien Tango",
"How to Make Love Like an Alpha Centaurion" and more!
(Note: Last title still a work in progress...)

$20.00, plus S/H


Specialty Totes are Totes Special!

You asked, we answered. Here are the first of our line of Specialty Totebags. Now you can show your extra-special love for Poofs, the 'Gators, and Kitty's most famous one-liner and carry all your stuff at the same time!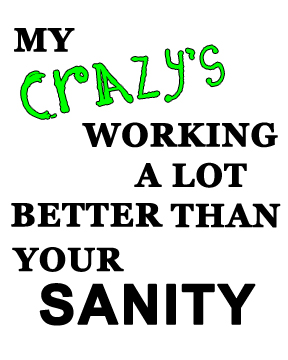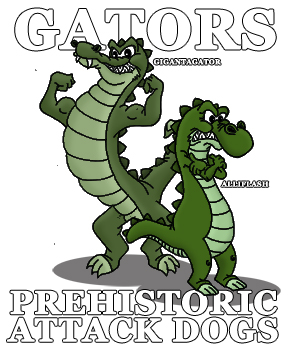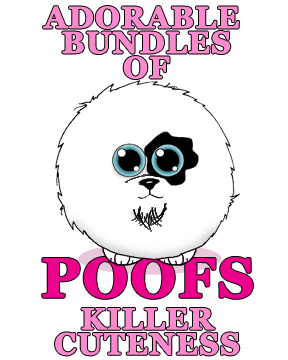 Regular Totes $30.00, plus S/H
Two-Toned Deluxe Totes $40.00, plus S/H
Keychains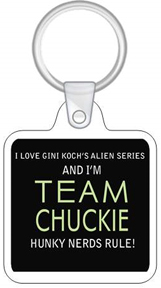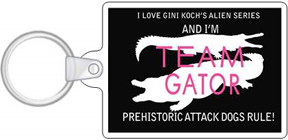 Show you're someone who can handle the wheel for Alpha Team with a stylin' keychain.
(Limo not included.)

$12.00, plus S/H


Send your order to gini@ginikoch.com. Please be sure to list sizes and quantities clearly.
All orders paid through PayPal. International orders okay.
All items will be charged 9.3% AZ sales tax. Shipping & Handling varies;
you'll be advised of S/H charges before your order is final.

Orders will not process until payment is received. U.S. orders can take 4-6 weeks.
International orders can take up to 8 weeks. Expedited shipping options are available
(but they cost a ton & we don't encourage the impatience -- but we'll do it if you want it).
| Clothing |
| Extra Bling |
| Poofs©! |
back to the Entrance of the Alien Collective Depot
Want to know what's happening with me first? Send your email address to gini@ginikoch.com with "Hook Me Up!" in the subject line, and I'll add you onto my email blast. You'll be the first to know about news, excerpts, book releases, contests and more.
I'm also on Pinterest!
http://pinterest.com/ginikoch/
|Blah, Blah, Blah... |
| Bookstore |
| Alien Collective Depot |
| Licensed Products |
| Accolades |
| Invasion of the Blog Tour |
| Playlist |
| Newsy Stuff |
| Datebook |
| Deathless Prose |
| Expanded Universes |
| Spotlight |
| Extra Me! |
| Free Stuff |
| Sightings in the Wild |
| Cool Links |
| The Centaurion Files |
| The Necropolis Files |